Today is May 25th 2017, the craftspersons have almost finished their work.
Now it is our turn!
We will be on site as of mid-June; we still have to build the swimming pool and its terrace.
We will take delivery of kitchen units on June 21st 2017, then we will need to set it up. We also have to set up all furnitures, arrange the cupboard interior, sew the curtains and create the whole decoration…
In short, still a lot of work.
Here come some pictures of what has been done: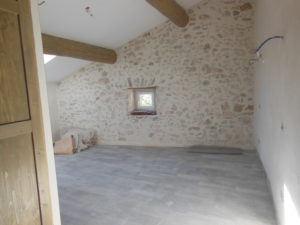 Small private kitchen, we finally have all essentials to live in the Empreinte